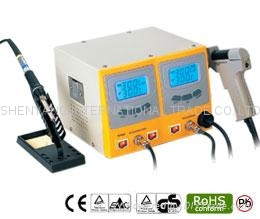 Temp Controlled Soldering Station
Model No.︰
SY-987
Brand Name︰
-
Country of Origin︰
China
Unit Price︰
-
Minimum Order︰
100 pc
Product Description
Features:

One desoldering iron with absorbing gun and one soldering iron, playing all the rolls of soldering and desoldering functions.

High-performance PTC in the desoldering iron provides a continuous heat supply suitable for desoldering all types of components and removing the residual solder easily.

The soldering station integrates automatic sleep function.

The station will go into sleep status automatically if the soldering iron is not operated in 15minutes. during the sleep mode, the temperature of the tip will keep around 200℃.This action will reduce and save the power. The life of the tip will be extended a lot because normally the tip will not be oxidated during the sleep mode. and the station will be back to the previous working condition when pick up the soldering iron or push any key.

The thermostat function and suitable for soldering different components automatically. The soldering iron and desoldering iron can be used separately or together.
Price Terms︰ FOB Ningbo
Payment Terms︰ TT / LC / DP / DA
Packing︰ Color Box
Lead Time︰ 20 Days
Standards Certificate︰ CE,RoHS
Related Products